Homicide Victims Memorial
The Homicide Victims Memorial is a testament to the number of people murdered in this country whose lives were not in vain and who will be remembered forever. The elegant white marble kiosk rests on the grounds of Rose Hills Memorial Park and Cemetery in Whittier, California.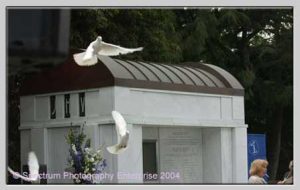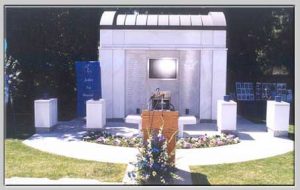 The Memorial was built through a very generous donation from Dr. Henry T. Nicholas, III, in honor of his sister Marsalee Nicholas. Dr. Nicholas also sponsored the 2008 Victims Bill of Rights Act, known as Marsy's Law, named for his sister.
On the first Sunday of National Crime Victims' Rights Week during April each year, Justice for Homicide Victims holds their annual celebration of Victims at the Memorial. National Crime Victims' Rights Week 2019 will be April 7-13. The ceremony includes awards for distinguished services performed by District Attorneys, homicide detectives, Mayors, Governors and countless Victims Rights advocates who honor victims and their rights. Victims are able to write messages to their lost love ones on balloons, doves are released and candles are lit.