Homicide Victims Memorial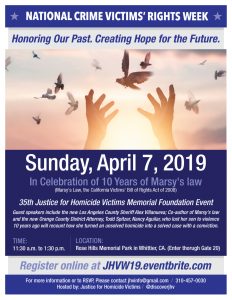 Sunday, April 7th, 11:30am -1:30pm
Rose Hills Memorial Park, enter at Gate 20
3888 Workman Mill Rd, Whittier, CA 90601
Please arrive by 11AM

Please register on our Eventbrite page by clicking the link below, if you plan to attend.
For questions contact: Jane Bouffard at jhvinfo@gmail.com or 310-457-0030
Speakers will be Los Angeles County Sheriff Alex Villanueva, co-author of California Victims' Rights Law and Orange County District Attorney Todd Spitzer, and the mother of a son whose homicide case was unsolved for 10 years. Doves will be released in honor of loved ones, participants will be able to light a candle for loved ones, and the International Peace Choir will sing.
Pictures of over 250 homicide victims will be displayed. Please fill free to bring a picture of your loved one to share. Light snacks will be served following the ceremony.
The Homicide Victims Memorial is a testament to the number of people murdered in this country whose lives were not in vain and who will be remembered forever. The elegant white marble kiosk rests on the grounds of Rose Hills Memorial Park and Cemetery in Whittier, California.
The Memorial was built through a very generous donation from Dr. Henry T. Nicholas, III, in honor of his sister Marsalee Nicholas. Dr. Nicholas also sponsored the 2008 Victims Bill of Rights Act, known as Marsy's Law, named for his sister.
Since 1981, National Crime Victims' Rights Week is celebrated every year in April. This week is dedicated to learn about victimization, the effect victimization has on individuals, families, friends and the community, and to promote laws, policies, and programs to help victims of crime. Every year, thousands of communities across the nation honor the dedication of those before us that established victim rights and renew commitment to guarantee that all victims have the rights and services they need to recover from crime. Victim Support Services participates in marches, tree-planting ceremonies, and many other activities that are held each year to promote victims' rights and to honor crime victims and those who advocate on their behalf.The ceremony includes awards for distinguished services performed by District Attorneys, homicide detectives, Mayors, Governors and countless Victims Rights advocates who honor victims and their rights. Victims are able to write messages to their lost love ones on balloons, doves are released and candles are lit.